The livestream link for tonight's Varsity Football game against St. Joe is listed below. The video feed will begin at 6:45 PM. For those of you who are able, we hope you'll attend tonight's game in person to support our Laker students! Go Lakers!
https://www.youtube.com/watch?v=1VH1jorhxlo
Lakeland Jr/Sr Newsletter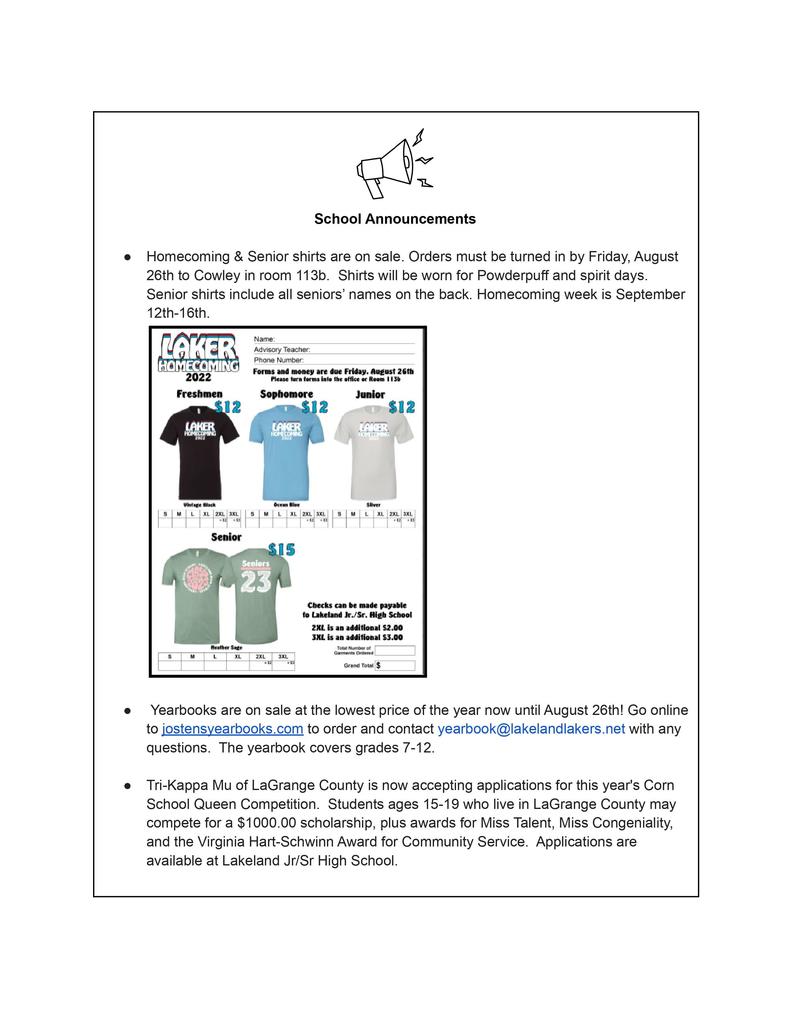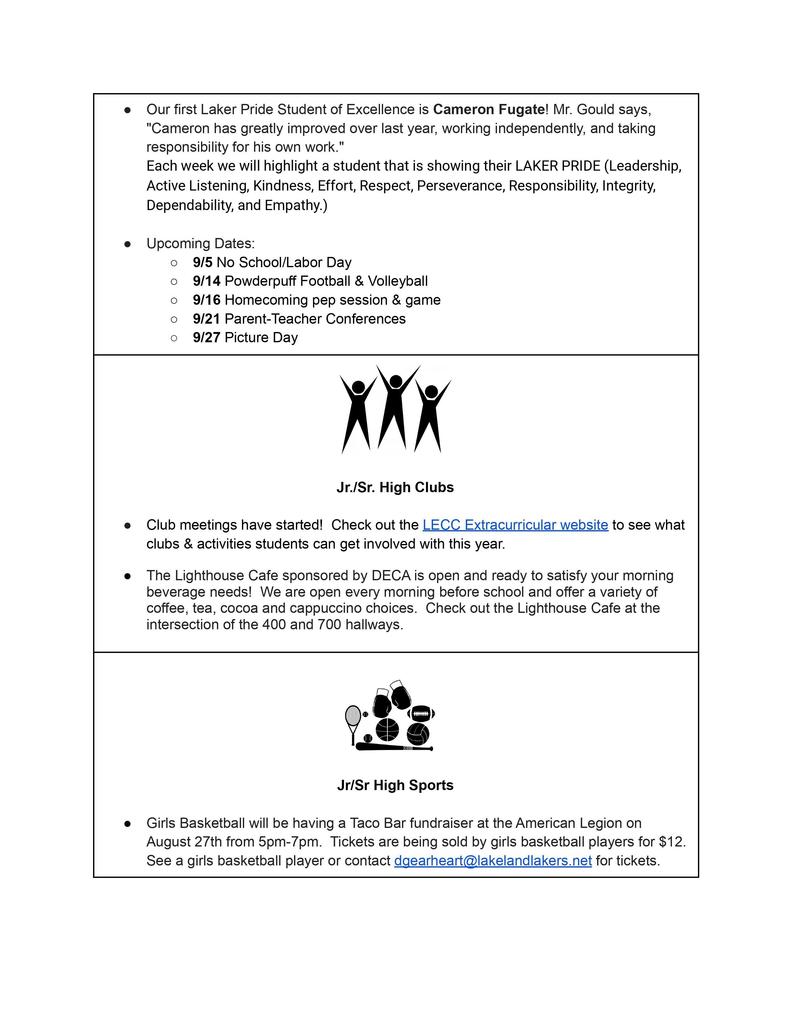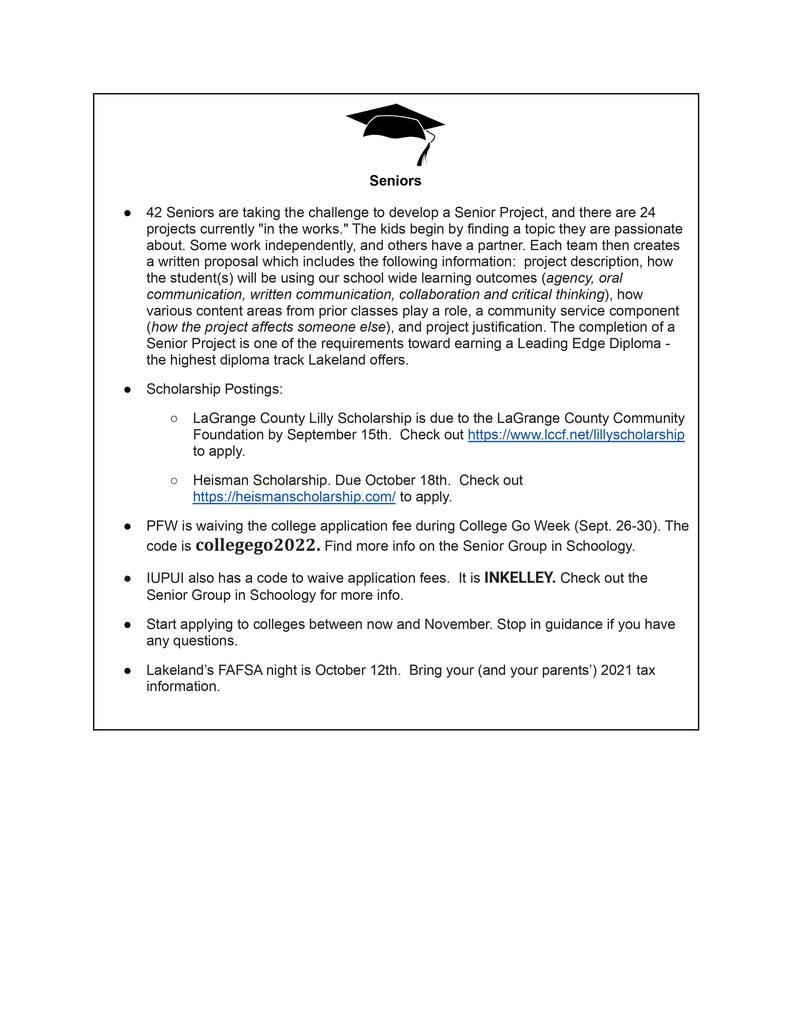 "Attention all Seniors/ Senior Parents: Please make sure you are checking college entrance requirements to make sure you have or will be taking everything that is required to be able to be accepted at that school. For example: IU Bloomington REQUIRES PRECALC and 2 Years Foreign Language no matter what program you want to study. IF you need to rework your schedule- contact Mrs. Delagrange or Mrs. Stroop IMMEDIATELY."

Open House is tonight! 6-7pm for 7th graders and 7-8pm for all other students. Looking forward to seeing you all. The senior meeting originally scheduled for tonight has been postponed. A new date will be announced soon. Go Lakers!
SENIOR AND PARENT MEETING POSTPONED- The senior and parent meeting originally scheduled for tomorrow night, August 4th, has been postponed due to scheduling conflicts. This meeting is going to be rescheduled for a later date coming soon. We are looking for an upcoming night without any athletic events and will share as soon as it is selected. Thanks for your understanding and enjoy the last few days before the start of the school year! Go Lakers.
Lakeland Music Boosters!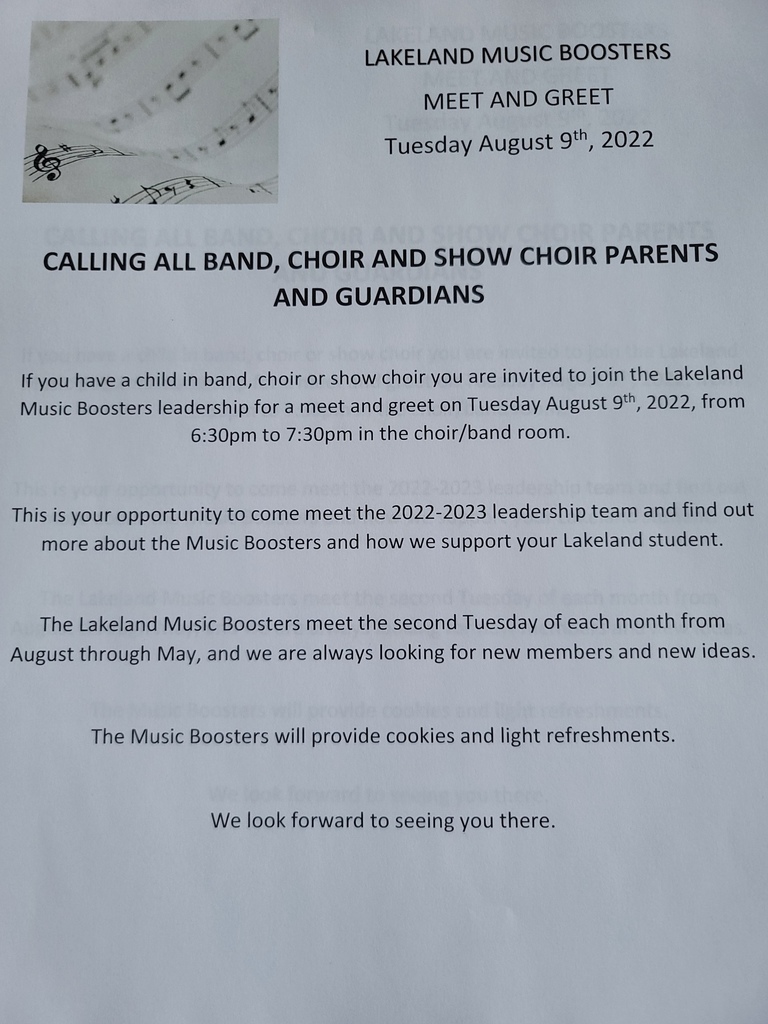 SENIORS- Aug 4th @ 6-7pm we are having a senior parent meeting in the auditorium with important information about making the year a success for students and family.
Thursday, Aug. 4th= from 6-7pm we are opening the doors for all incoming 7th graders to find lockers, walk the halls, and meet teachers. Then, from 7-8pm we are opening the doors for all students to find lockers, walk their schedule and meet teachers that are there.
Tomorrow: Tuesday, Aug 2nd from 6-8pm we are hosting a parent information night at the St. Joseph's Church in LaGrange. 100 E 50 N.

I could not possibly be happier with a group of graduates than I am right now with the class of '22. Today was finally what it should be. Fun celebrating their accomplishments. They returned the senior run back to what it should be and actually cleaned up a little as they ran. (Very noisily). LaGrange, you've raised some good ones and it was a lot of fun practicing with them today. Looking forward to filling these seats again on June 3rd. Now to go empty my office of the 500 balloons they left me.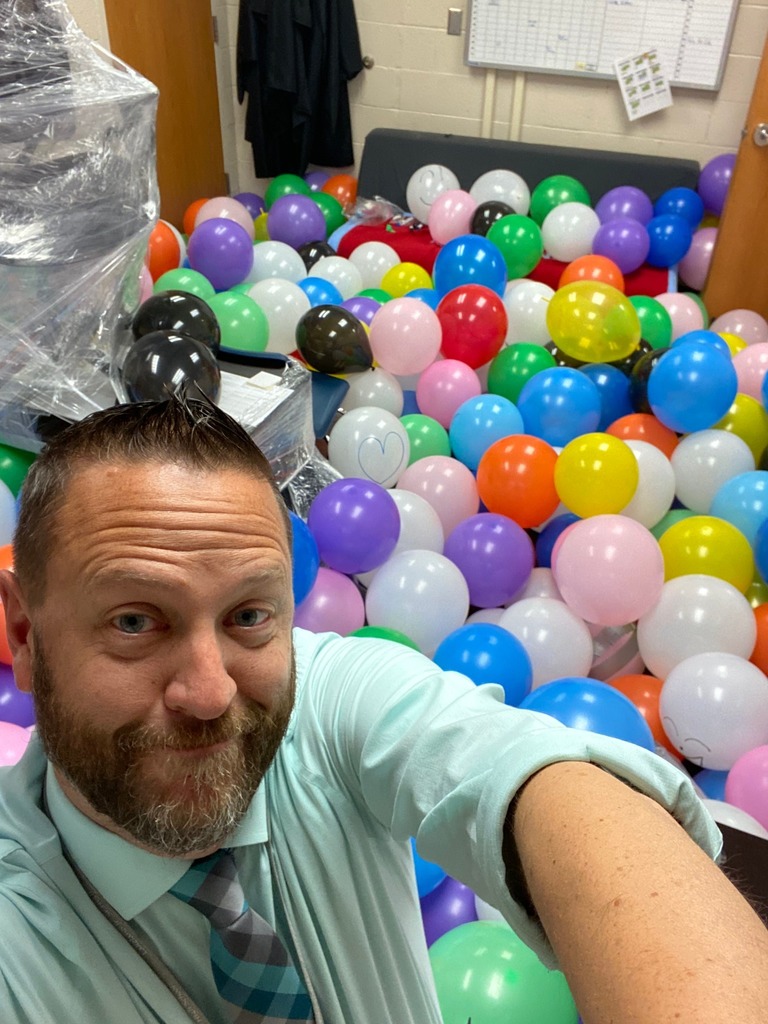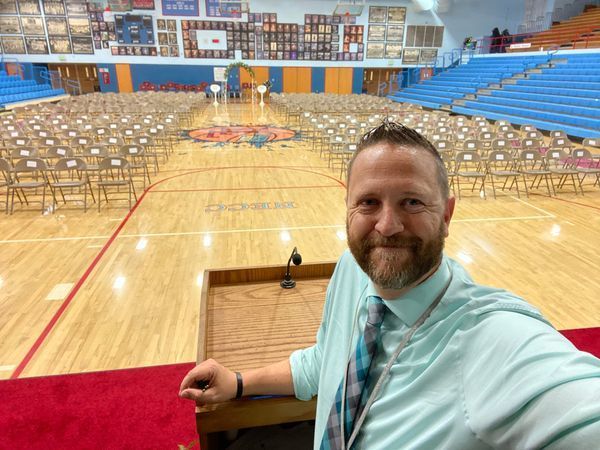 One of my favorite events of the year. The 8th grade celebration is underway and not being rained on. Always amazed at the food they can put down and still run around just being silly. Such a fun night planned by the student council, the sponsors, and volunteer parents. Watching kids be kids is always so good for the heart.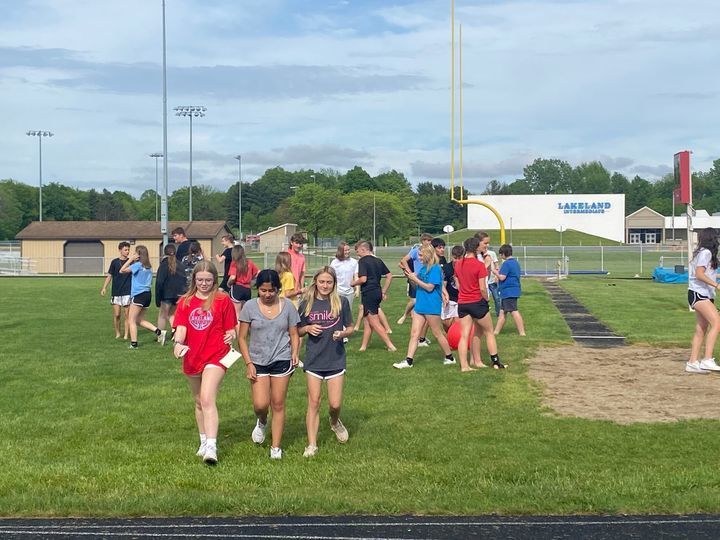 8th grade celebration is a wrap, now time to crash the FFA Banquet. Love seeing kids excel and reflect on their journey.

(This post is also going to school email at 4:30 today as well) Laker families, Here is a quick rundown of everything you need for tomorrow's graduation ceremony. Baccalaureate will start at 6pm in the auditorium with Erica Cook and Mrs. Maxey as your speakers. Music by Chad Olinger. Grads should be ready in the cafeteria by 6:30. Leave personal items with parents or somewhere locked up. Graduation starts at 7pm in the main gym and will be live streamed on Lakeland's sports network on youtube or this link.
https://www.youtube.com/watch?v=Jdl9u162dTA
Immediately following graduation, seniors will pick up their diplomas in the cafeteria. All library fees, laptop returns, and graduation surveys should be taken care by noon tomorrow. Have a great rest of the day and we are looking forward to seeing you tomorrow night to celebrate our graduates. ------ familias lakers, Aquí hay un resumen rápido de todo lo que necesita para la ceremonia de graduación de mañana. El bachillerato comenzará a las 6:00 p. m. en el auditorio con Erica Cook y la Sra. Maxey como oradoras. Música de Chad Olinger. Los graduados deben estar listos en la cafetería a las 6:30. Deje artículos personales con los padres o en algún lugar bajo llave. La graduación comienza a las 7 p. m. en el gimnasio principal y se transmitirá en vivo en la red de deportes de Lakeland en youtube o este enlace .
https://www.youtube.com/watch?v=Jdl9u162dTA
Inmediatamente después de la graduación, los seniors recogerán sus diplomas en la cafetería. Todas las tarifas de la biblioteca, las devoluciones de computadoras portátiles y las encuestas de graduación deben pagarse mañana al mediodía. Que tenga un gran resto del día y esperamos verlo mañana por la noche para celebrar a nuestros graduados.

Good luck to the Boy's Golfers teeing off in Sectional this morning and Brooklynn Rettig as she competes in High Jump at State today. You can follow her at
https://www.ihsaatv.org/
she should jump around 3:30pm. Go Lakers! #AnchorDown


A huge thank you to the students, parents and staff that were able to come to the first Principal's Council Meeting tonight. I am always encouraged when the community steps out and helps talk through ideas. A lot of great ideas shared tonight. The next meeting will be in September and I will get a date out as soon as fall schedules are solidified.